One of the 'big three' costs on British dairy farms. It is an area that by keeping on top of things we can get more cows in calf sooner. Having more cows in early lactation puts more milk in your tank, and that is fundamentally what you are paid on!
We have experience dealing will all kinds of herds – there are safe interventions even in herds that run bulls. We can scan cows from 28days in calf, but prefer them to be 5 weeks, as there is less chance of the embryo being lost. To encourage a regular fertility visit (at least once a month – we offer a significantly reduced visit fee)
We ought to be routinely seeing cows that are high risk:
Had twins
Assisted calvings
Had milk fever
Held cleansing
If any abnormal smell or discharge has been noted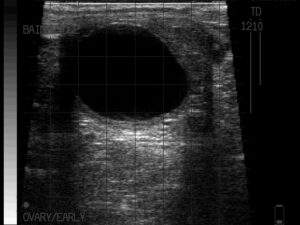 Ultrasound picture of a cystic ovary, 1 square = 1cm, meaning this cyst is 3.5cm tall, by 5cm wide.